Tour of Britain boosts hope for Cumbria's cycling clubs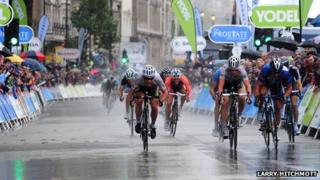 The Tour of Britain cycling race is to wend its way through Cumbria in September when stage four sets off from Carlisle.
The dynamic train of cyclists, team entourage and commercial sponsors could leave a commercial winning aftermath.
The Olympic Torch relay brought in more than £300k to the local economy according to Carlisle Council, and the authority hopes the Tour might draw in more than £100k.
Andy Shaddock, secretary of Carlisle's Border City Wheelers Cycling Club , said the sport had been "enhanced" by the British champions within its ranks.
"Cycle racing has significantly increased the number of new racers nationally," said 53-year-old Mr Shaddock.
"Our own club membership has leapt to around 250 and we're cycling in all the disciplines of time trial, road race and track and the juniors are really coming on.
"The Tour of Britain will see some of the big teams that have just finished the Tour de France racing.
"Some will be sending their younger aspiring riders - the Sky team may not be led by Wiggins, but it could be Boasson Hagen Edvald.
"It's been these riders, these teams and of course the recent champions that British Cycling has produced that have galvanized the sport in Britain."
The organisers say the Tour is now the UK's biggest professional cycle race and it is the country's largest free-to-watch sporting event.
The 1350km (840m) race starts on Sunday 9 September and finishes eight stages later in Guildford on Sunday 16 September.
The 156k (97m) Cumbrian stage will set off from Carlisle to Blackpool on the morning of 12 September.
More details and maps can be found on the Tour of Britain website .
"We spend hundreds of thousands of pounds on ensuring the safety of the riders and spectators," said race director Mike Bennett.
"There is a rolling road closure run by the police as the race progresses so nobody is held up on the roads for more than about 20 minutes," he added.
Mr Shaddock believes the future of cycling is on the up.
"Cycling was a necessity through and after the last war period and then, with greater prosperity, people turned to cars," he said.
"Today, we've returned almost to a state of necessity as cycling in all forms, road and track racing and off-road mountain-biking has a reborn popularity.
"Cycling is really a win-win situation today.
"It's seen as being healthy, good for the environment and exciting as a sport, so all sectors of cycling are on the up.
"It's a bit too early to tell what the Wiggins impact will be on cycling, but given what we are seeing at the moment in Cumbria, the future looks great."