Tribute to Maryport biker Christopher Denwood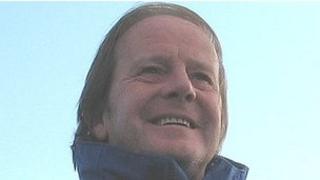 The family of a biker who died in Cumbria have paid tribute to a man who "died doing what he loved best".
Christopher Denwood, 54, from Maryport, hit a stone road sign near Dunmail Raise on the A591 near to Thirlmere reservoir on Saturday.
Mr Denwood, who was riding a Triumph Sprint, was pronounced dead at the scene of the crash.
A family statement said: "Chris died doing what he loved best, riding his bike on Lake District roads."
The statement, released by Cumbria Police, added: "Chris will be greatly missed by his family and friends following his untimely death."
An investigation into the crash is continuing.