Action pledge after Devil's Bridge jump death in Kirkby Lonsdale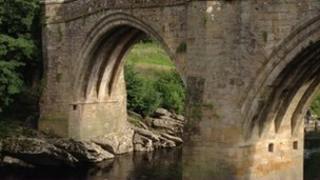 Tougher measures are being considered in an effort to avert further deaths at a Cumbrian bridge, where a man was killed when he jumped into a river.
Darrell Teal, 22, died after jumping from Devil's Bridge in Kirkby Lonsdale, into the River Lune earlier this month.
The site attracts hundreds of visitors a day during the summer, many of whom jump 40ft (12 metres) into the water.
South Lakeland Council is now considering legal action against those taking part in so-called "tombstoning."
Mr Teal, from Manchester, was one of a group who jumped from the bridge on 21 July.
Signs alerting visitors to a bylaw banning jumping are already in place. But council bosses are considering tougher measures to avoid further tragedies.
Deputy council leader Clare Feeney-Johnson said: "Signs have been in place since the 1970s. But sadly we are still seeing incidents where people are injured and, in the most recent incident, a death.
"We now need to look at whether signs are in the right place, are shocking enough and properly highlight the risk of death."
She said police were also being consulted about additional summer patrols and possible legal action against those who flout warnings.