West Cumberland Hospital revamp given green light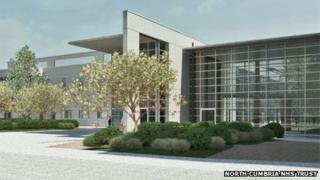 A revamp of a Cumbrian hospital is to go ahead after the Treasury approved funding, health chiefs said.
The £91.6m scheme at Whitehaven's West Cumberland Hospital includes a new accident and emergency unit.
It means the government will provide £71.6m and the remaining £20m will come from North Cumbria University Hospitals NHS Trust and the North of England Strategic Health Authority.
Work on the bid began in March 2009 and demolition started in January 2010.
The redevelopment will include new wards, increasing the proportion of single rooms, refurbishment of the women and children's unit and demolishing unfit buildings to make way for improved parking.
Improve emergency care
Interim chief executive of North Cumbria University Hospitals Trust, Dr Neil Goodwin, said: "This is excellent news for West Cumbria and we are delighted that the most significant part of the funding for the hospital redevelopment has today been approved by HM Treasury.
"£91.6m is the biggest single investment into the healthcare of West Cumbria for over 50 years."
The trust said the hospital was in urgent need of being updated to help staff work more efficiently and to improve emergency care and patient privacy and dignity.
In October 2010, Chancellor George Osborne announced the government's funding for the Whitehaven hospital scheme. Approval from the Treasury was the last stage in the process.
Its condition is that the final contract for the redevelopment must be signed within three months.