Electric bike scheme extended to west Cumbria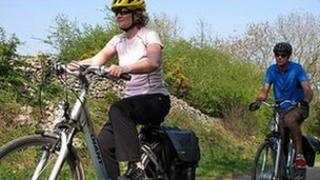 An electric bike hire scheme set up in part of the Lake District a year ago is expanding to west Cumbria.
The West Cumbria Electric Bicycle Network, at Muncaster Castle, follows the success of a similar scheme in Coniston and Windermere in July 2011.
The battery-run bikes can travel up to 40 miles (64 km) before they need to be recharged at a network of charging points located at tourist attractions.
Similar networks already operate in the Peak District, South Downs and Devon.
A new not-for-profit business - Muncaster Cycles - will hire out the so-called ebikes, along with standard mountain bikes.
England's finest views
Isobel Stoddart, from the Electric Bicycle Network, said: "We are looking forward to seeing more visitors and locals exploring the unique scenery of the beautiful Wasdale and Eskdale valleys.
"We really hope that this will help put west Cumbria on the map as a green place to visit, with benefits for local business."
Route maps have been produced for people using the bikes, with routes including trips to Wasdale Head and Wastwater, widely regarded as one of England's finest views.
Katie Read, West Cumbria Tourism Manager, added: ''We are thrilled that the Electric Bike Network is arriving in the Western Lake District.
"The bikes themselves offer a great way for visitors to get about and see things they wouldn't ordinarily see with the added benefit of being out in the fresh air and not using their cars.''