Lanternhouse arts venue in south Cumbria to be sold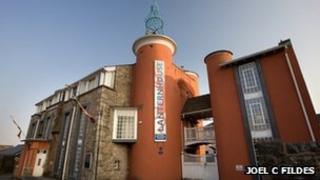 An arts centre in south Cumbria is to be sold following cuts to its Arts Council England grant.
Trustees of Lanternhouse International in Ulverston said they could no longer afford the upkeep of the venue in The Ellers.
The Arts Council withdrew its backing earlier this year. The £1.6m building opened in 1999.
The trustees said they would invest the proceeds of the sale in a new programme of regional arts events.
The closure of the venue was announced in February. It had been hoped that another arts group would take on the property.
Denis McGeary, chair of the Lanternhouse trustees, said: "In the current climate, you cannot really expect anybody to find the sum of money required to open up and start working again.
"We are hopeful that with the sale of this building we can actually start another interesting, wild, barmy, phase of the life of this company."
According to Mr McGeary, the property has yet to be valued.
"Whatever we get, that money will be ploughed back into the arts in this region," he added.
Mr McGeary said the Arts Council had been informed of the intention to sell, but has yet to respond.
A spokesperson for Arts Council England said: "The closure of the building has not been discussed with us recently although we have offered and will continue to offer involvement in discussions with the board of Lanternhouse and other stakeholders about the future of this iconic building."