Seagulls in Ulverston: Red roof plan to deter birds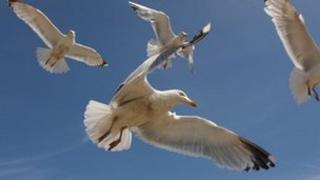 A roof in a Cumbrian town is to be painted red in a bid to deter seagulls.
The birds, which nest on a number of buildings in Ulverston, cause problems with their droppings and rip open bin bags to get at discarded food.
Businessman Archie Workman is planning to paint part of the roof of his premises red to try to keep the birds away.
He said that it followed a study in Arbroath, Angus, Scotland, which found that seagulls avoided the colour.
Mr Workman, the manager of Ulverston Business Centre, said: "It has to be a particular shade, Manchester United red.
"Gulls apparently have excellent colour vision.
"We have a very big flat roof and we're going to paint the areas where they nest.
"I'm not totally convinced that it's going to work, but it's a lot cheaper than some of the deterrent devices you can buy such as kites or alarms."
He added: "Alfred Hitchcock used the same sort of trick when he made the film The Birds, so I'm using a little lateral thinking here."