Cumbria ex-policeman died of natural causes, says coroner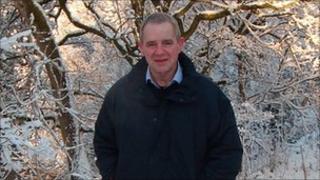 A retired senior detective from Cumbria who collapsed on his drive died of natural causes, a coroner has ruled.
Former Det Supt Ian Douglas, who lived in Dalston, near Carlisle, collapsed outside his home after a row with his partner's ex-husband.
An inquest into his death was ordered after he died in Cumberland Infirmary.
Coroner David Roberts said Mr Douglas died of natural causes and "a heart attack precipitated by stress".
Mr Douglas, who was 61 at the time and living with his partner Lynn Lancaster, had been retired from his role with Cumbria Constabulary for 11 years.
Ms Lancaster's three children from a previous relationship also lived in the house and she shared custody of them with their father Craig Lancaster, who is a case progression officer with Cumbria Constabulary.
'Extremely tragic'
Mr Lancaster arrived at the house on Sunday 10 July and a confrontation occurred between him and Mr Douglas.
Mr Douglas, who had previously suffered a heart attack, collapsed on the driveway.
He was taken to Cumberland Infirmary but later died at the hospital.
David Roberts, Coroner for North and West Cumbria, said: "This whole incident is extremely tragic and distressing for all concerned.
"Ian was described as a lovely and easygoing man, and Mr Lancaster has said from encountering him previously at work that he was a decent guy."
The argument was "purely a family dispute", he said.
"The evidence clearly shows that one of Ian's coronary arteries was severely blocked to a pin hole size gap.
"I therefore conclude the cause of death was entirely down to natural causes, a heart attack precipitated by stress."