Pirelli makes £9m investment in Cumbria factory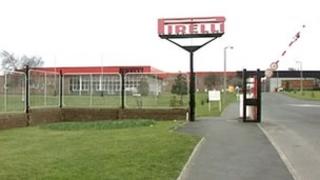 A tyre company has announced a £9m upgrade for its factory in Cumbria.
Pirelli Group will bring in new process machinery for volume production at its Carlisle factory which could secure existing jobs.
The company said it was also investing £11.4m across its UK sites, safeguarding 120 jobs and creating 34 new jobs.
Rob Johnson, from the Cumbria Chamber of Commerce, said the announcement was "tremendous" for Carlisle.
He added: "I think it's about making sure that the factory is viable in the longer term in a location like Carlisle.
"They're investing in future new technology tyres and the plant to manufacture them in. I think it's a testament to the Carlisle work force."
Pirelli secured regional growth fund money from the government to spend on its research and development in the UK earlier in the year.
Deputy Prime Minister Nick Clegg said the announcement was a "boost to British business and a vote of confidence in the UK".
The Italian company supplies tyres for Formula 1 racing cars among other vehicles and employs about 850 people in Carlisle.