Furness £900,000 coastal funding creates 275 new jobs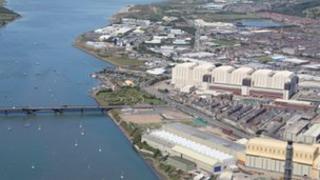 More than 275 jobs are to be created in Cumbria thanks to nearly £1m of government funding.
Furness peninsula is one of only six coastal locations in England chosen to receive a share of £18m from the Coastal Communities Fund.
The £900,000 of funding means Furness Enterprise, which was due to close this month, has now been saved.
Chief executive Harry Knowles said it was "brilliant news" for the agency who have been through "absolute hell".
In addition to the 275 new jobs, about 82 indirect jobs will also be created.
Mr Knowles said: "It is absolutely brilliant news. I can't tell you how delighted I am and how grateful I am.
"There is lots of energy, lots of entrepreneurship and a lot of enterprise in the area and the funding will give us the resources to tap into that and develop it."
Turning tide
Furness Enterprise bid for the money to help support existing companies and businesses in the area, encourage new business start ups and to help unemployed individuals to gain new skills.
The agency, which was launched more than 20 years ago, announced in January that it was to close at the end of August because of lack of government funding.
The new funding boost has saved the eight employees at the agency.
Mr Knowles said: "As far as I'm concerned this is the turning of the tide, this is part of the fight back.
"We have been through absolute hell in the last 18 months... we've now been given this tremendous opportunity and we're going to take it and move forward."
The two year programme will be up and running from September.