Cumbria County Council buys new road maintenance fleet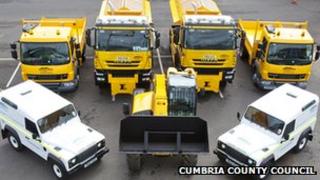 A fleet of more than 140 new road maintenance vehicles has been bought by Cumbria County Council.
The £7m investment follows the council's decision to bring its highways service back in-house after a seven year external contract.
A road network of 4,784 miles (7,699km) is maintained by the council.
The new fleet includes 33 gritters, three Land Rovers and two all-terrain Unimog winter maintenance vehicles.
Councillor Tony Markley, Cumbria County Council's cabinet member responsible for highways, said: "This investment in the highways service builds our resilience for the future and underlines our commitment to maintaining and improving the county's roads."
According to the council, investing in new vehicles was assessed to be the most cost-effective option compared to hiring, leasing or buying second-hand vehicles.