Keswick flood defence gates and barriers almost ready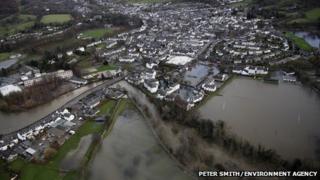 Gates and barriers have been installed in Keswick as part of a flood defence scheme due to be completed by the end of September.
The Environment Agency said they would protect the town from the type of flooding which devastated nearly 200 homes in 2005 and 2009.
Project manager Mike Harper said they would be operated "day or night".
The £6.1m scheme includes an early warning monitoring system to provide information about rising river levels.
Keswick has suffered serious flooding twice in the past seven years and the agency believes the scheme will provide protection for 180 homes and businesses.
Trigger levels
Mr Harper said: "We can never say that we will eliminate the risk of any flooding.
"But we are confident that these defences that we've installed would have protected against those flood events that were experienced in 2005 and 2009."
Procedures for operating the new flood gates have been agreed by the Environment Agency, Keswick Flood Action Group, Keswick Town Council, Fitz Park Trust and Keswick Football Club.
Monitoring equipment at Thirlmere, Glendermackin, Low Briery, Greta Bridge, Keswick campsite and Lodore will alert the agency when river trigger levels are reached.
It will then close the three flood gates on Crosthwaite Road and Penrith Road.
There are also barriers to protect homes along the River Greta.