Police and crime commissioner elections: Cumbria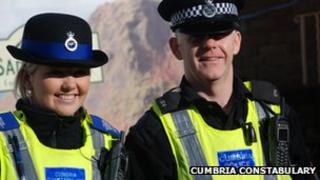 On 15 November, 37 police and crime commissioners will be elected in England along with four in Wales.
The PCCs, as they will be known, will be tasked with scrutinising their force and holding it to account. They will also be able to hire and dismiss the chief constable and set the force's budget.
The commissioners will be paid and are supposed to empower local people into having a say on how crime is tackled in their area.
Nominations for candidates in Cumbria have now officially closed.
BBC News has taken a look at each of the police forces ahead of the elections.
Cumbria Constabulary
The force covers the county of Cumbria, from the Scottish border in the north of the county, down to Barrow-in-Furness in the south, west to the coast and east to the borders with Northumberland and County Durham.
By area, Cumbria is the second largest county in England but, in terms of its population of about 495,000, it is relatively small.
Much of the area is rural and isolated and the force is facing rising burglary rates and falling detection rates in some areas. It needs to tackle a £18.7m cut in funding without affecting services.
Chief Constable Stuart Hyde previously said the focus for next year was on anti-social behaviour - both residents' and the force's top priority - as well as burglary, criminal damage, drugs, violent crime and domestic violence. The force also needs to reach national standards for answering emergency and non-emergency telephone calls and reduce staff sickness levels.
The force is being led temporarily by Deputy Chief Constable Bernard Lawson from Merseyside Police while Mr Hyde is suspended.
The force has neighbourhood policing teams (NPTs) made up of police officers, staff, community support officers, special constables and volunteers.
There are three basic policing areas - South, North and West - each with its own headquarters in Kendal, Carlisle and Workington.
The force also has a civil contingencies and events planning unit, a dog section, a roads policing unit and an underwater search team.
Funding
Cumbria Constabulary had an income of about £127m in the year March 2011-2012, partly made up from about £43m in government funding, about £27.5m in national non domestic rates and £34.5m in council tax. It set a budget of just under £105m.
The current 2012-13 budget is primarily funded by a government grant of £65.4m, £35.6m from council tax, £15.9m from specific grants and £3m from fees and charges.
For comparison, this is less than neighbouring force Durham Constabulary and less than half Northumbria Police's budget.
Cumbria Constabulary is making budget savings through a combination of removing vacant posts, introducing more efficient processes and reducing costs.
About 12% of police officer posts - 103 - have already been removed, in addition to the 180 staff posts already lost since the Comprehensive Spending Review.
Crime and performance
The force is proud to report that, in the last set of results covering March 2011 to March 2012, overall crime had fallen by 3% - from about 27,000 reported crimes to about 26,000.
The most dramatic drop was in anti-social behaviour, which saw a reduction of over 21%, equating to about 6,900 fewer incidents.
There were slightly more cases of burglary but less criminal damage than in the previous year.
Cumbria is sixth in England and Wales for the number of crimes as a proportion of population.
In terms of the actual number of crimes the force had the third least in March 2012, behind only the City of London and Dyfed-Powys.
The force has seen a big fall in reports of anti-social behaviour. There have also been reductions in assault, serious violent crime and criminal damage.
However, there has been an increase in reports of racially aggravated crime, which the force puts down to a recent scheme to provide an environment in which victims feel safer and more confident in reporting crimes.
The number of serious sexual offences rose slightly but the force points out the rate is still lower than the national average. There was a slight rise in burglary.
Cumbria compares well in tables looking at the proportion of all crime each force successfully "detects", coming 3rd top in the year March 2011-2012, with 39.17%.