Carlisle father Alistair Rowan angry at ambulance delay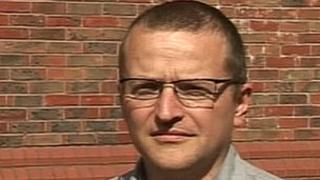 Ambulance bosses have apologised to a Carlisle father after it took 45 minutes for paramedics at arrive and treat his injured daughter.
Alistair Rowan dialled 999 when eight-year-old Emma fell off her bike on the city's new bypass.
But despite an ambulance station being a few miles away it took 45 minutes for an emergency crew to arrive.
Mr Rowan claims control staff in Preston could not find the new bypass. An investigation has been promised.
He said he gave directions on Sunday to the ambulance controller, who could not find the bypass or Burgh Road on their system.
In a statement the North West Ambulance Service said: "When the 999 call was received an ambulance was dispatched within six minutes.
"We confirm that there was a delay in reaching this patient and we are currently looking into the circumstances.
"We sincerely apologise for the distress this caused to both the patient and her father."
Mr Rowan, from the Morton area of Carlisle said: "It was about 45 minutes before the ambulance arrived and by this time my daughter was in complete shock and was in a right state.
"I think the ambulance crew was pretty annoyed about the run around that they had had for a simple five minute journey from the hospital to where we were."
Mr Rowan said he believed training or the mapping system used by the ambulance service may be to blame for the delay.
"When I was talking to the girl at the call centre it sounded like the bypass didn't exist to her," he said.
Mr Rowan praised the crew that did arrive, describing them as "great".
Carlisle's emergency ambulance control centre was closed in 2009. Calls are now answered at a facility in Preston, Lancashire, more than 80 miles from Carlisle.