Gurners prepare to grimace at Egremont Crab Fair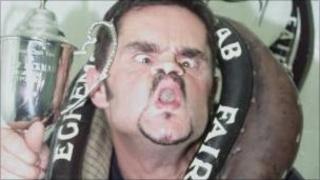 Gurners will be pulling their ugliest face possible at the World Gurning Championships at Egremont in Cumbria.
Part of the Egremont Crab Fair, the competition attracts about 50 contestants in the men's, women's and junior sections, who put their head through a horse collar and make a face.
"It's a very serious competition, honest," said organising committee chairman Steve Foster.
"It's really the degree to which your face changes."
"If you're ugly to start with and just get a little bit uglier it's not as good as if you're beautiful to start with and make yourself really ugly."
False teeth manipulation
Tommy Mattinson, who has won the title 13 times and holds the Guinness World Record, will be entering again this year.
He said: "I just try a few faces, stretch my face the night before."
Mr Mattinson's father was world champion 10 times but has never defeated his son.
"Everyone finds it very difficult to beat Tommy Mattinson," said Mr Foster.
"To watch him performing, you can see why.
"But one day we fully expect someone to take the crown off him. It might be this year."
The competition has rules, including a ban on make-up, though manipulation of false-teeth is allowed for those who have them.
The gurning contest is only one part of a series of traditional sports held as part of the Crab Fair, including horse and pony leaping and pipe smoking competitions.