Ex-vicar Ronald Johns admits to child sex offences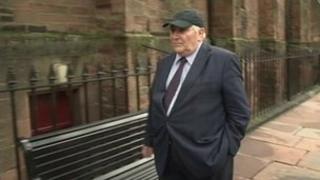 An ex-canon of Carlisle Cathedral has admitted a series of child sex offences dating back more than 20 years.
Ronald Johns pleaded guilty at Carlisle Crown Court to assaulting three teenage boys between 1983 and 1991.
The 75-year-old, of Kings Road, Coltishall, Norwich, was bailed to return to Carlisle Crown Court on 19 November for sentencing.
Outside court the Archdeacon of West Cumberland Richard Pratt apologised "unreservedly" to Johns' victims.
"We've been deeply shocked and grieved by The Reverend Ron Johns' admission of child sexual abuse," he said.
"It's right that the highest standards should be expected of clergy and Mr Johns' has badly failed his vocation and his profession."
The archdeacon said when the church was made aware of the allegations in 1993 the then Bishop of Carlisle, The Right Reverend Ian Harland, did not alert the authorities, instead moving Johns to a parish in Caldbeck.
He explained the bishop had taken advice from a forensic psychiatrist who said Johns was unlikely to repeat such offences.
"The decision was taken, absolutely wrongly, that he be moved from the cathedral to Caldbeck," he said.