Cumbria mountain fall man cycles 200 miles for rescuers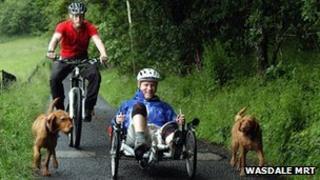 A man who fell 40m (131ft) down a Cumbrian mountain is challenging himself to a 200-mile (321km) bike ride to raise money for those who rescued him.
Joe Beaumont from Windermere, was rock climbing up a crag is Eskdale in March 2011 when he fell onto the rocks below.
The 34-year-old suffered extreme concussion, nerve damage and broke most of the bones on the right hand side of his body.
To thank those who rescued him, he is taking part in a coast to coast cycle with his twin brother John and their two dogs.
He said: "I can remember emotions but not very much else. It's all a bit of a blur.
"I remember waking up in the intensive therapy unit (ITU) and I had my family around me. That's all I can remember.
"It was the weirdest feeling [when he woke up] and I still have no memory of the accident."
Mr Beaumont, a professional rock climber and tree surgeon before his fall, was rescued by the Wasdale Mountain Rescue Team and flown by RAF Boulmer to West Cumberland Hospital.
He underwent several operations and still remains unable to walk without considerable pain.
'Bit insane'
He will be completing the challenge on a recumbent trike, as he is unable to use a standard bicycle because he cannot hold the handlebars or put pressure on his legs due to his injuries.
He says he is feeling "pretty nervous" about the challenge, as he is not a keen cycler.
"The only way I can keep sane is by being a little bit insane.
"I think it's 15 years of rock climbing, kayaking and being so into sports - I think that is why determination is drilled into me.
"Hopefully this time next year I will be right as rain," he said.
Mr Beaumont is setting off on the challenge from RAF Boulmer in Northumberland, where he will meet two of the people who rescued him.
He said he is feeling "very anxious and emotional" about meeting the people who saved his life.
They will finish their journey eight days later in Wasdale, Cumbria, meeting the mountain rescue team they are raising money for.
Richard Warren, chairman of the Wasdale Mountain Rescue said: "The challenge that Joe has set himself is truly amazing for someone with such debilitating injuries and we wish him great success in this cycle challenge."
Mr Beaumont said: "I'm pretty nervous about it, but also excited in anticipation. It will be amazing."