West Cumbria rail line re-opens after flood landslip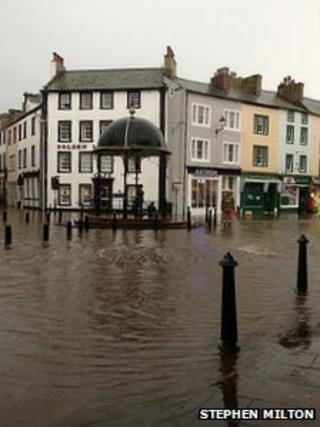 A stretch of rail track in west Cumbria has re-opened after a landslide caused by flooding.
Services were halted after an embankment collapsed on to the Sellafield-to-Whitehaven line near St Bees, on Wednesday.
A train was derailed on the same stretch of track after previous floods six weeks ago.
Meanwhile, the Environment Agency has issued flood alerts from 13:00 BST, along the coast from Gretna to Silloth.
Elsewhere, Whitehaven and Egremont are among areas to have been hit by flooding.
Ceilings collapsed
Northern Rail ran a bus replacement service until the Sellafield to Whitehaven line re-opened on Thursday afternoon.
Repair work was due to begin at the home of Emma Jane Taylor, of St Bees, after her property was flooded in August but the work has had to be halted after water came in a second time.
She said: "It was horrendous. I got a call at work to say there was flash flooding and to get home. So I jumped in the car and have never seen water on the roads like it.
"I tried to contact my mum but she was busy dragging sandbags across the drive to prepare for the water. I got to the house and I already had sandbags in place but the water was coming in again like last time and was knee deep.
"Neighbours were affected and everyone was trying to help each other. My walls had just dried out after last time and the plasterers were due to come today but this has put the kibosh on that."
In Cleator Moor, St Patrick's Roman Catholic Primary School was closed after the heavy rain caused the ceilings to collapse.
'Pretty traumatic'
Head teacher Emma Jackson said: "It has been pretty traumatic. We are going to have to have a full electrical check to make sure the school is safe which we don't think it is.
"Quite a lot of the ceiling has come down and a few of the displays. Once we know the school is safe we can start to tidy up and hopefully we will be open on Friday."
In Whitehaven, Market Street, Tangier Street, Roper Street, Lowther Street and Coach Road have all been closed. No evacuations have taken place.
A spokeswoman for the Anchor Vaults pub in Whitehaven said: "At the bottom of the stairs the water is up to my hips.
"But the further you go through into the cellar where the barrels are it's deeper still.
"The electric has gone off and there are a lot of barrels floating in the water down in the cellar. We've tried pumping the water out but at the moment it doesn't seem to be going down any."
Defences 'to hold'
Martin Slack, of Cumbria Fire and Rescue Service, added: "We have been pumping out properties where necessary and monitoring water levels.
"The Market Place area seems to have been the worst hit, with a lot of properties affected."
A flood risk warning has been issued to residents and businesses in coastal areas of the county.
The Environment Agency said high tides were expected later. Spokesman Bill Derbyshire said: "We are expecting defences to hold. We will have our people out and about today making sure the people and businesses of Cumbria are safe."
Other areas at risk included properties at Mossband Hall Marsh, Silloth, Burgh Marsh, Port Carlisle, Wampool Estuary, Skinburness Marsh and Rockcliffe.