Windermere Steamboat Museum and Kendal paper plant share £4.4m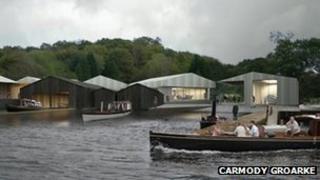 A steamboat museum and a paper mill in Cumbria will share government funding of £4.4m.
Lakeland Arts Trust and paper firm James Cropper in Kendal have been granted the cash from the Regional Growth Fund.
The Arts Trust will spend its £1.25m on Windermere Steamboat Museum and James Cropper will spend £3.15m on upgrades to its plant.
Westmorland and Lonsdale MP Tim Farron described the awards as "stunning".
He said: "This is fantastic news for the South Lakes - getting one bid is remarkable, but getting two successful bids is stunning."
'Vital for success'
The boat museum, which is due to reopen in 2015, will house some of the oldest steam yachts in the world.
James Cropper, which is the largest private sector employer in South Lakeland, will invest its grant in a new biomass steam generating plant.
Chairman Mark Cropper said: "This project, which we've been trying to get off the ground since 2005, is vital for the long-term success of our business.
"It will bring energy costs under control, reduce CO2 emissions and related carbon taxation and ensure that Burneside remains a viable manufacturing location for decades to come."
More than £10m will be spent on the boat museum, which closed in 2006. It is hoped it will attract more than 100,000 visitors a year.