Weights and measures fetch £63,000 for Cumbria council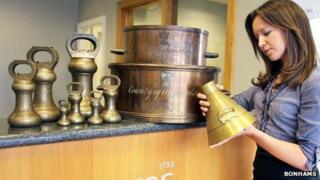 A collection of historic weights and measures owned by Cumbria County Council has raised more than £63,000 at auction.
The 19th and 20th Century brass and bronze bushels, pecks, drams, and yard sticks fetched double the amount expected at Bonhams in Chester.
The star lot of the 60 was a set of George IV Imperial Standard bronze alloy measures which went for £1,600.
The council said the money would go into its budget coffers.
Last used in the first half of the last century, the collection, which weighs in at several tons, had been stored in a council building in Carlisle.
Other items included a set of early Victorian brass bushel measures dating back to 1857 from the County of Cumberland which fetched £6,500.
A Victorian bushel measure from Workington dating back to 1882 sold for £2,800.
Trading standards officers now carry out the job of the former weights and measures officers.
Angela Jones, trading standards service manager, said: "This was a very special collection and it's not just ourselves who have benefited from these pieces, many were donated to local museums prior to the auction.
"All of the proceeds from the sale will be paid to Cumbria County Council."