Windermere clean-up finds traffic cones, signs and shoes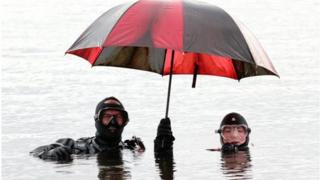 Traffic cones, road signs, bottles, shoes and an old black and white car registration plate were among the rubbish found in a clean-up of Windermere in the Lake District.
The litter-pick was carried out by Kendal and Lakes Sub Aqua Club.
"The lake has this terrible secret stash of rubbish," said diving officer Paul Fry. "It is eye opening when you see what is down there."
A World War II mortar bomb and live rifle rounds had previously been found.
Shopping trolleys had also been discovered in other lakes, said Mr Fry.
"What surprised me the most was not what we found but the volume of what we found," he said.
"It is good to know it is no longer sitting at the bottom, rotting away - or not in some cases because the plastic, which we found a lot of, obviously isn't biodegradable and just lies there forever."
Charity recycling
Broadcaster Paul Rose, who is vice-president of the Royal Geographical Society, lives overlooking the lake and joined the clean-up.
He said he hoped to find "something a little less dangerous" than bombs and ordnance this time.
"There's a big, active diving scene up here in the Lakes, which I am part of myself, and we know from regularly diving in our local lakes and quarries how cluttered with rubbish and debris they can be," he said.
Anything safe to recycle will be handed over to a group of local school children who are intending to turn the litter into fish, ducks and swans and sell them for charity.
Mr Fry said: "You get all the usual plastic bottles and broken glass but there is also quite a lot of stuff which comes off the boats using the lake like piping and even anchors.
"All this stuff presents a hazard to people using the lake and it's good we're doing something like this to remove it, which is challenging stuff and can improve our diving skills."