New Lake District rights of way secured for the future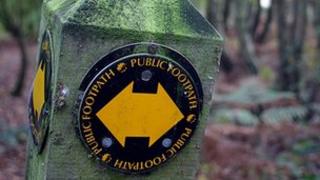 A partnership between two conservation bodies has agreed to recognise new rights of way in the Lake District.
The National Trust and the Lake District National Park Authority have formally recognised the new routes to ensure they are permanently recognised.
The paths will be added to Ordnance Survey maps to ensure people know exactly where they are.
A spokesman for the park authority said the project would ensure the longevity of the paths.
The agreement also establishes who is responsible for them in the long term.
The result of the agreement will be 11 new footpaths totalling 6.3 miles (10.14km), three footpaths converted to bridleways totalling 3.12 miles (5.02km) and two new bridleways totalling 0.48 miles (0.78km).
Anastasia French, from the Ramblers said that they welcomed the joint venture and they looked forward to seeing more established in the future.
"This records it as a public right of way," she said, "and provides the protection needed to keep these paths open for the public to enjoy.
"It also means people can be confident about where they can go out for a walk."
Over the next few months, the Lake District National Park's field team will be erecting new fingerposts on the paths and installing new gates and surfacing to make the paths fully usable to all.