Mountaineer's Olympic torch to be auctioned for charity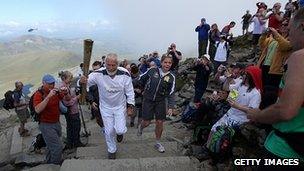 On 29 May the Olympic Torch reached the highest point of its journey around the UK - 1,085m (3,560 ft) above sea level at the top of Snowdon in Wales.
In an emotional ascent, famous Cumbrian mountaineer Sir Chris Bonington grasped the torch for the final leg to the summit.
"When I was first invited," he said, "I thought it was going to be just a bit of a photo-opportunity, but when the time came for me to be interviewed, I broke down in tears.
"The whole event really took me back to my roots where I started my climbing 61 years ago in Snowdonia and for me it was a very special experience," he added.
Despite the emotional tie Sir Chris had with the event and the torch itself, he has decided to auction off the torch in aid of a cause very dear to his heart.
His close mountaineering friend and near neighbour Doug Scott established a charity, Community Action Nepal (CAN), in 1994 to aid Nepalese porters.
"The CAN charity helps open and run schools and hospitals where they are really needed," said Sir Chris.
"They're now building porter safety shelters because the porters are quite lightly clad and over the years many have died in doing what they do - these shelters are so important," he added.
Sir Chris is the patron of CAN and insists everything given to the charity actually goes to the people it is intended for.
"Doug wanted to give something back for all that he's got out of climbing," said Sir Chris. "And I wanted to put something back into their community too - but we do ensure that every penny gets to them.
"Although it is a poignant thing for me, it should raise a reasonable amount of money."
Sir Chris and Mr Scott are hopeful of a figure between £8,000 and £12,000, but as Sir Chris said: "We've had a huge number of bids. If there was anyone out there poised to write a cheque for £20,000 then that would be great."
He said £20,000 would buy a porter's refuge and go a long way towards building a school as well - a "real tangible benefit for the people who really need it".
"I've had some wonderful times in Nepal and the Himalayas and have made some very special deep, deep friendships and in particular with Pertemba, who is probably the most successful expedition sirdar (chief Sherpa) for 1975 and 1985 when I climbed Everest," he said.
Sir Chris said the Sherpa community in Nepal were a very hard working and industrious people and were quite prosperous through climbing tourism.
"It's the porters - not the high altitude porters who are well paid and deservedly so - but the ordinary porters who carry the really heavy loads, it's they who really do need help in their villages. So this is exactly what our CAN charity is doing," said Sir Chris.
The auction runs until next Wednesday and the torch will be on display at the Royal Geographical Society during the First on Kangchenjunga Event that day when the name of the successful bidder will be announced.
Related Internet Links
The BBC is not responsible for the content of external sites.