Cumbria health trust admits liability over cancer errors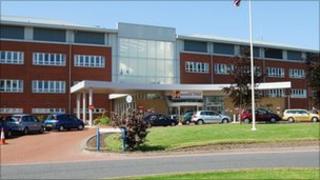 Three women who were wrongly told they did not have breast cancer are in line for compensation after a Cumbrian hospital trust admitted liability.
North Cumbria University Hospitals Trust's breast screening programme was suspended in 2010 after inspectors discovered serious problems.
About 1,600 mammograms were reviewed and some 180 women were called back for further investigation.
The trust has now admitted liability in three cases and apologised.
Problems in the breast screening service were uncovered by a Quality Assurance team in the summer of 2010.
Of the 180 women called back for further investigation, 16 who were originally given the all-clear are now being treated for cancer.
'Learning from mistakes'
Screening at the trust' s Cumberland Infirmary in Carlisle and the West Cumberland Hospital in Whitehaven began again in January last year, although it is being managed by specialists in Newcastle.
Mike Walker, the trust' s medical director, said: "The trust has been proactively investigating the care delivered to women who were recalled following the review and the suspension of the breast screening programme with the aim of finding resolution as soon as we can.
"We are now in a position to accept liability in three cases and have apologised to the women involved.
"This organisation is committed to providing an excellent service and we recognise the importance of learning from mistakes of this nature.
"We have taken steps to ensure that a similar incident does not occur in the future and we apologise unreservedly for the shortcomings in their care."
He said the trust was taking "pro-active steps" to investigate potential clinical negligence claims.
The trust said all consultant radiologists working in the breast screening service had completed additional training.