Egremont homes evacuated after mine shaft collapses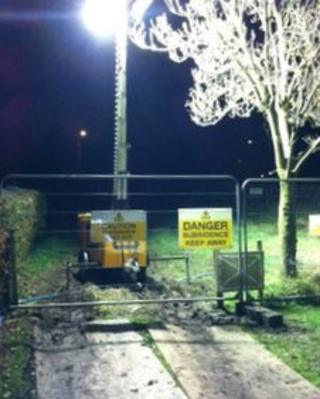 An 80ft (25m) deep hole has opened up in a West Cumbria street after a disused mine shaft collapsed.
Several homes were evacuated after the collapse on Howbank Road on the Smithfield Estate in Egremont.
Cumbria Police has asked drivers to avoid the area but said there were no reports of anyone being hurt.
The area was used extensively for iron ore mining and similar holes appeared in nearby streets in 2005, with nine bungalows eventually demolished.
Cumbria Police said work was being carried out on the disused shaft when it opened up. A bore-hole rig which was being used to examine the shaft fell into the hole.
Some houses are very close to the collapsed land and Copeland Borough Council has provided emergency accommodation, if needed, for those closest to the hole.
Karl Connor, from the council, said: "There are a number of mine shafts in the area, throughout West Cumbria. Where we find these shafts, where we're aware of them, work goes on to fix them.
"Unfortunately I don't think everybody's aware of them all."
Security guards are keeping people away from the scene.