The Luck of Workington returns to Cumbria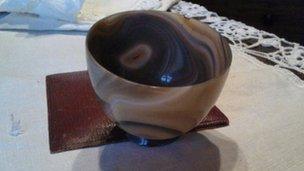 A famous communion cup has returned to its home town after 70 years.
The "Luck of Workington" was given by Mary Queen of Scots to the Workington-based Curwen family in 1568.
She gave the gift after fighting battles, crossing the Irish sea, and landing on their doorstep where they looked after her.
She handed the cup over, wishing luck to Workington, and moved on, leaving her luck behind.
Within eight months she was arrested, detained for 18 years and then beheaded.
The cup stayed in the Curwen family, spending 400 years in Workington.
The Luck of Workington left the town when the Curwen family moved in the early 1940s - purportedly bringing a spate of ill fortune to the town.
Now the head of the Curwen family, Susan Thornely of Windermere, has returned the relic to the Helena Thompson Museum in memory of the day that Mary Queen of Scots came to the town on 15 May, 1568.
The Luck, which is valued for insurance purposes at £50,000, is thought to have been Mary's travelling communion cup.
Museum manager Pat Hall described it as the museum's most important acquisition since the museum was established in 1949.
Mrs Hall said: "The reason it is called The Luck of Workington is down to a bit of hearsay. When Mary gave the cup to Sir Henry Curwen she wished Workington all the luck.
"When it [left the town], maybe it was a coincidence, but we lost the mines, the steelworks, we lost everything. When it came back in October, we got all the bridges, and all the roads - let's put it down to The Luck!"
The museum is over the road from Workington Hall, which now sits in ruins. Mary stayed there during her last night of freedom, and was beheaded at Fotheringay Castle on 8 February, 1587.
Related Internet Links
The BBC is not responsible for the content of external sites.