Roberta Packman golfing benefit cheat jailed for fraud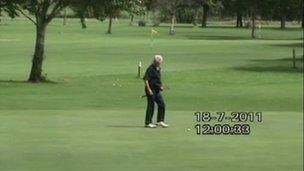 A woman has been jailed for 28 weeks after falsely claiming £38,489 of disability benefits over five years.
Roberta Packman claimed both Severe Disability Premium Income Support and Disability Living Allowance.
The 58-year-old, of Albyfield South, Cumrew, said she could barely walk unaided but was filmed by investigators playing golf and carrying equipment.
She admitted two counts of falsely claiming disability benefits at Carlisle Crown Court in November.
Packman claimed both benefits from 2006 to 2011 and was accused of failing to notify the Department of Work and Pensions that her circumstances had changed.
Carlisle Crown Court's Recorder, Kevin Grice, said: "I can only conclude that your motivation was simply one of greed and a wish for financial gain, in my view, for this prolonged course of dishonesty by which a significant amount of benefits were obtained to which you were not entitled."
Related Internet Links
The BBC is not responsible for the content of external sites.