Seasonal challenge for Cumbria wildlife officer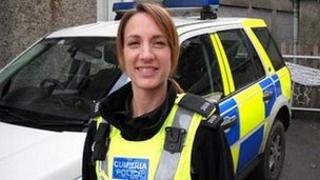 The incoming wildlife officer for Cumbria has described the challenges she will be facing in her new role.
PC Helen Felton replaces John Shaw, who is retiring after two years in the post and a total of 26 in the force.
Working alongside a team of local liaison officers, she said one of her priorities would be to raise the awareness of wildlife crime.
She will also focus on cracking down on deer poaching, which usually rises during the festive season.
Ms Felton said: "At this time of the year there's a high demand for venison.
"There's also been quite a big increase in the price per pound, which filters back to the poachers, so that's an area we're looking at quite strongly at the moment."
The priorities of dedicated Wildlife, Rural and Environmental Officers around the UK are set by the National Wildlife and Crime Unit.
These include tackling persecution of badgers, bats and birds of prey.
Illegal pearl fishing
In Cumbria, protecting freshwater pearl mussels, which have joined giant pandas and Javan rhinos in a list of the world's 365 "most endangered species", is a priority.
There has been a steep decline in numbers in recent years, partly due to poaching and illegal pearl fishing.
Ms Felton has been a Cumbria Police officer for four years, and prior to that was a PCSO.
She described her new role as an "ideal opportunity" to combine her interest in animal care and conservation issues with the policing skills she had gained.
However, she admitted that she had "huge" shoes to fill - her predecessor received the National Wildlife Crime Enforcer of the Year award in 2011, and during his appointment detection rates for wildlife crime rose by 800%.
"I'm very aware of that," she said.
"And I'll be working towards it, so watch this space."