Walkers on closed Whitehaven footpath 'at risk'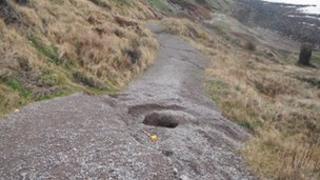 Walkers are putting themselves "at risk" by using a closed footpath, Copeland Borough Council has said.
Saltom Pit access footpath at Kells in Whitehaven was closed for safety reasons in December 2011 after cracks and holes appeared.
A spokesperson said people were still using the unsafe path "despite repeated warning that they should stay away".
The council said it would inspect the site and stability of the ground while monitoring ground movement.
Pat Graham, from the council said: "Once again, I would strongly urge people, to stay away from the Saltom Pit access footpath which is not safe.
"There is a real risk to the safety of people and their pets and this is why the pathway has been fenced off."
The council said there had been "significant movement" during the past 12 months reinforcing the decision to keep it closed.