Helvellyn Christmas Day climb to check weather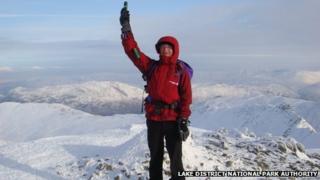 Christmas Day will be business as usual for one Lake District Ranger - a climb to the summit of one of England's highest mountains.
One of Jon Bennett's daily tasks is to check conditions on top of Helvellyn.
He takes turns with fellow fell-top weather assessor, Jason Taylor, to scale the 3,114ft (950m) peak and post reports on wind speed and temperature.
Details are available through the Weatherline service, either online or via telephone.
The assessors carry about 16lb (8kg) of equipment and expect to make the ascent in two hours.
New technology allows them to post their reports and pictures online as soon as they have returned from the mountain top.
The Weatherline service has operated for 36 years and is used by more than half a million people each year.