Cumbria legacy of German artist Kurt Schwitters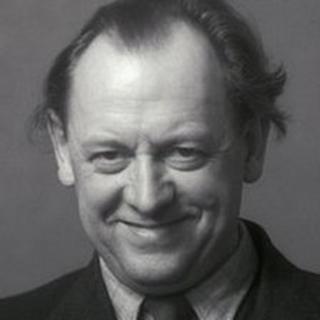 The Lake District town of Ambleside is a popular tourist destination, famed for its easy access to the fells.
What is less well known is that it was also the final home of an influential German artist, now the subject of a major exhibition at Tate Britain.
Kurt Schwitters was penniless and largely unrecognised when he died in the town in 1948, but has been credited with influencing modern-day artists such as Damien Hirst and Anthony Gormley.
As one of the so-called "degenerate artists" persecuted by Hitler he fled Germany, arriving in London via Norway and internment on the Isle of Man.
In 1945 his British girlfriend, Edith Thomas, suggested a visit to the Lake District, and the pair decided to make Ambleside their home.
Gunpowder store
He displayed his paintings in local shops and advertised for commissions, but was at times reduced to begging bread from the back of the bakery.
However, he also made some useful friends, and one of them, landowner Harry Pierce, offered him the use of an empty shed on a small estate in nearby Elterwater.
The building, a former gunpowder store, became both a studio and an artwork in its own right, as Schwitters embarked on his final "Merzbau" project.
This harked back to earlier works; one in Hanover, later destroyed by bombing, the other in Norway, abandoned when he fled during the Nazi invasion.
One wall of what is now known as the Merz Barn was transformed into a sculpture, using found objects, plaster and paint.
Following his death, what has now been recognised as a great work of art was treated with less than reverence.
Local children would come in and throw stones at it, and climbers taking shelter would hang their ropes from it to dry.
It was eventually removed - because it was incorporated into the wall itself, the whole side of the building had to be taken out - and is now on display at the Hatton Gallery in Newcastle.
Even without the artwork the Merz Barn has become something of a place of pilgrimage.
Ian Hunter, from the Littoral Arts Trust, which now owns the site, describes it as "at the epi-centre of British modernist movement."
"I'd say to those down south, you have the Tate Modern, we have the original."
And it is not the area's only claim to fame.
"One valley away from here you've got Wordsworth, with his early support of the French revolution," Ian Hunter said.
"Two valleys away there's Ruskin [who championed the cause of Victorian "modern painters"]. It's an extraordinary alignment of revolutionary cultural thinking.
"From high romanticism to modernism in three valleys."
'Creativity over evil'
The trust would like to create a permanent museum to Schwitters at the site.
Ian Hunter said: "We in Britain have a responsibility to honour his legacy.
"Because he was British - on hearing about the concentration camps he renounced his nationality, swore never to speak German again, and applied for British citizenship.
"It was granted the day after his death."
Reflecting on Schwitters' legacy, he added: "It is the triumph of creativity over evil.
"He is a hero, a talisman to a lot of young artists because he did not give up. He didn't compromise.
"We moan on today about Arts Council cuts, but he had nothing, really, but kept going.
"One year he won the Ambleside flower painting competition.
"That just shows you what he was like, rubbing shoulders with the elite of the European modernism movement, but also happy to display his work in Ambleside and accept an award for it."
Kurt Schwitters died on 8 January 1948 at Kendal Hospital.
Before his death he said: "No-one knows who I am now, but in 60 years they will". He was wrong by only five years.