Captain French Surgery in Kendal closed by chemical leak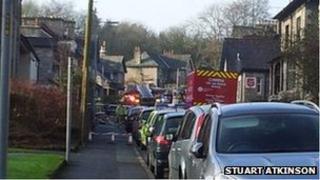 A doctors' surgery in Cumbria was evacuated of patients following a chemical leak.
Staff at the Captain French Surgery in Kendal reported a "strange odour" from the adjoining pharmacy at 10:10 GMT.
Steve Healey, from Cumbria Fire and Rescue, said at least one acid gas was leaking and giving off a vapour.
"A number of chemicals had been stored together in a safe and moved to this building when it opened around two months ago," he said.
Firefighters wearing gas tight suits removed the chemicals which were taken away by a specialist company after being safely packaged.
The fire and rescue service had earlier described the fumes as "potentially dangerous".
Gillinggate was partially closed for about five hours while the incident was dealt with and other surgeries and a hospital were placed on alert.
The building has now reopened after it was fully ventilated.