Gritters out on Cumbria's minor roads as a 'precaution'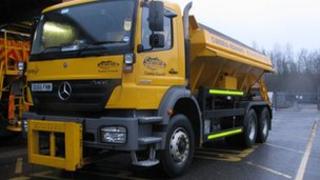 Minor roads in Cumbria which are not routinely treated are being gritted as a precaution against predicted snow, the county council has said.
It said it expected travel disruption on Friday after snow on Thursday night and asked people to plan ahead.
Cabinet member for highways Tony Markley said the next few days could see "the biggest test so far this winter for our highways teams".
The council has 22,000 tonnes of salt in stock, it said.
Cumbria's roads are categorised according to how quickly and frequently they are gritted.
The council said about a third of the road network is made up of first and second priority roads, which are gritted within three and five hours during severe weather.
'Necessary areas'
But third priority routes, only gritted during periods of prolonged icy conditions and when first and second priority roads are clear, are now being treated in "necessary areas".
In addition the council's new band of 70 volunteer snow champions will also help clear footways and pavements where they live.
Highways teams are on standby to switch from routine highways maintenance work to snow clearance duties.
Mr Markley said: "I always believe in planning for the worst and hoping for the best.
"We've invested heavily in our new fleet of 33 gritters and the decision to bring the highways maintenance service back in house from Amey has proved a wise one in terms of delivering on the frontline."
Last month Cumbria County Council launched an interactive online map, updated each lunchtime to show which roads the council's fleet of gritters intend to treat that evening and overnight during periods of snow and frosty weather.