Brothers guilty of disturbing rare Roseate Terns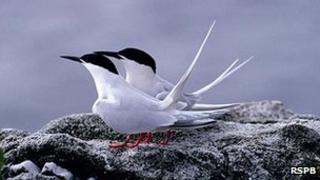 Two brothers have been found guilty of disturbing of a colony of Britain's rarest breeding seabird on Coquet Island off the Northumberland coast.
Derwick and Leslie Ramsey, from Amble, claimed they had landed on the island to collect shellfish and were unaware of the nesting Roseate Terns, Bedlington magistrates heard.
Two incidents when they disturbed the birds were recorded on RSPB video cameras on the island.
Both will be sentenced on 25 January.
Derwick Ramsey, 43, of Dansfield Square landed on Coquet Island on 20 July, with teenage relatives, the court heard.
He was warned by a RSPB warden that landing on the seabird sanctuary was prohibited and he should not go near the birds.
However, he walked round the island and past the terraces where 71 pairs of the terns - one of the few UK breeding colonies - were nesting.
Two days later Mr Ramsey returned to Coquet Island with his brother Leslie Ramsey, 41, of Charles Road.
Leslie Ramsey went ashore and disturbed the breeding seabirds, the court heard.
He pleaded guilty to reckless disturbance of a Schedule 1 bird under the Wildlife and Countryside Act 1981.
Derwick Ramsey pleaded not guilty but was convicted of the same offence, which carries a maximum fine of £5,000.
The brothers were found not guilty of having items (their boats) capable of being used to commit the offence.