Eight officers to patrol Sellafield nuclear plant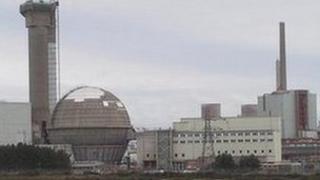 A new police squad has been set up to deal with crime in and around Cumbria's Sellafield nuclear site.
The unit, run by Cumbria Police, will deal with prevention of crime and general offences such as theft, burglary or anti-social behaviour.
Eight officers will make up the Sellafield Policing Unit and will be based on the site and at Whitehaven police station.
Cumbria Police said the team would eventually grow to 17 officers.
The Sellafield site currently employs about 10,000 people.
The Government, through the Nuclear Decommissioning Authority, has provided the cash for the project.
Sellafield also has its own police force - the Civil Nuclear Constabulary - consisting of armed officers who patrol the site and cover counter-terrorism issues.
A spokesman for Cumbria Police said: "Although the team's main focus will be on attending incidents that affect the site, they will also be a resource we can call on to attend issues that affect the surrounding community."