Cumbria's £320,000 coastal protection work complete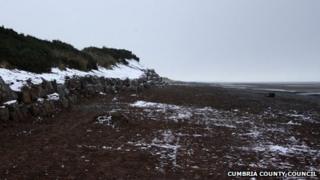 Work to protect a 918ft (280m) stretch of coastline in Cumbria has been completed.
The B5300 Maryport to Silloth coastline eroded by 65ft (20m) towards the road, making it "vulnerable" for drivers.
Cumbria County Council has now completed £320,000 of work to protect it from further erosion.
About 7,000 tonnes of rock armour has been installed along the stretch of road to protect the sand and gravel bank.
Councillor Tony Markley, said: "The road from Silloth to Maryport is a vital link for communities along the Solway coast.
"I'm thrilled that this stretch has been completed and that the road will be protected from further erosion.
"Without this work, there was a very real risk that part of the road would simply have disappeared into the sea and I was all too aware of the consequences that would have had for the local road network."