Visually impaired sailor's solo Windermere challenge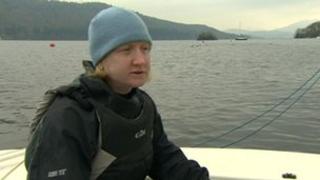 A visually impaired woman said she was "overwhelmed" after successfully sailing solo twice along Windermere in a five-hour challenge despite capsizing.
Lucy Hodges, who is registered blind, is usually joined in the boat by sighted volunteers.
But she decided to take on the challenge of taking to the water single-handed to raise money to help cover the volunteers' costs to travel to Japan to compete in an international competition later this year.
She and the volunteers are part of the Great Britain team which will compete at the 2013 IFDS Blind Sailing World and International Championships in May and June.
The 37-year-old from Rochford, Essex, said as well as the challenge of sailing solo, she also had to contend with the cold and tricky weather conditions.
She said: "When I started off and headed out, the wind was quite tricky. I must confess, in the first hour I capsized twice - the wind just caught me totally unaware.
"But after that it went really well. It was quite emotional when I completed it. I was a little bit overwhelmed. I am really proud of myself."
Aim to inspire
Ms Hodges is registered blind with nystagmus, which causes involuntary movement of the eyes. She has some useful vision which deteriorates under tiredness, stress and pressure.
She was supported by sighted tacticians in a boat behind hers who called to her about the gusts of wind and helped her to avoid obstructions.
She said: "It just emphasised how much of a team effort it is."
She said support as she was sailing on Windermere was fantastic.
Ms Hodges said many of her volunteers were based around Windermere and she spent a lot of her time training in the area.
Her solo challenge was to raise money for the volunteers, who she said were a key part of the team and will be used to help cover their flights to Japan.
She said she wanted to do the solo sail to show the sighted volunteers how much their time was valued.
Another aim was to inspire other visually impaired people.
She said: "I hope to inspire people to get out and try a sport."