Lorry drivers killed in M6 eight-vehicle pile-up named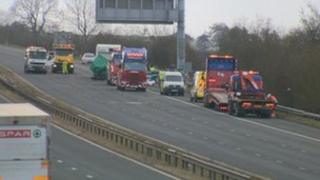 Two lorry drivers killed in an eight-vehicle pile-up on the M6 in south Cumbria have been named.
Alan Walmsley, 62, of Preston and Michael Proctor, 22, from Southport, died in the crash north of Burton-in-Kendal on Monday morning.
Police said the northbound carriageway was shut for nine hours as emergency crews attended the scene.
Officers believe vehicles in a traffic jam were shunted during the crash. A woman remains in hospital.
Mr Walmsley, of Mardale Road, Longridge, was driving a Spar delivery lorry.
He and Mr Proctor, of Salisbury Street, were pronounced dead at the scene.
A spokesperson for Mr Proctor's family said: "Mike was a loving, caring son and brother and was devoted to his baby son, Tyler.
"All Mike ever wanted to be was a wagon driver like his Dad. There is now a space in our lives that can never be filled."
'Large shunt'
A spokesman for Cumbria Police said: "All vehicles involved in the collision were travelling north on the motorway in lane one.
"The exact circumstances that led to the collision are subject to a full and thorough police investigation, however police believe that it was a large shunt that occurred while some of the vehicles were stationary in traffic."
A 42-year-old woman from Lancaster is still in hospital after her Peugeot 307 became trapped between the two lorries.
Police said she suffered slight whiplash injuries. Junction 35 to 36 was shut for more than nine hours.
About 25 emergency vehicles and 30 police officers attended the scene.