Farmer Frank Jackson loses 60 sheep to 20ft snow drifts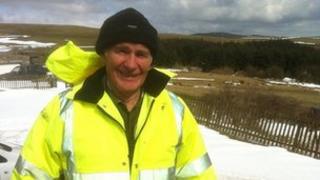 A Cumbrian farmer has described how snow drifts of up to 20ft (6 metres) claimed a fifth of his stock of sheep.
Frank Jackson believes more than 60 pregnant ewes have been lost after the county suffered days of severe weather.
Mr Jackson, 85, has farmed at Standish Cote, near Marton, for 60 years and said conditions had never been so bad.
The National Farmers' Union (NFU) said thousands of sheep and cattle may have perished in the recent snow, with Cumbria one of the worst hit areas.
Mr Jackson, whose farm sits on one of the highest points of the Furness peninsular, said: "It will probably be another week or even more before the snow clears enough so we can see exactly what has happened.
"The snow just kept coming and coming and filled all the gullies and hedgerows.
"I'm missing just over 60 sheep. There's been no sign of them and they are lambing ewes that started lambing less than a week ago."
Mr Jackson said the total number of livestock lost, including unborn or newborn lambs, could be as high as 200.
He added: "This is the first time ever that we have lost this amount of sheep. It's been the worst weather for the end of March for at least 15 years.
"All I can do at the moment is go round with a very long pole poking down and if the sheep are alive underneath you can feel it moving and dig in for them.
"But the depth of the snow is such that it's almost certain that they've not survived."
An NFU spokesman said: "It has put an extraordinary strain on the industry after what has been a torrid 12 months of extreme weather, compounded by the fact that many farmers' sheep are lambing at the moment.
"Sheep are adapted to living outside, but it is unusual to be lambing in this weather and we do expect to see some losses in areas hardest hit by the weather."