Compromise over Windermere parking plans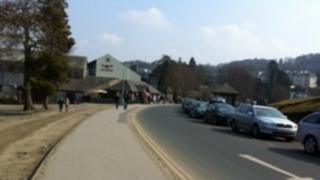 Businesses and Lake District planners have reached a compromise over plans to pedestrianise a busy tourist area.
The Lake District National Park Authority (LDNPA) was looking at the idea as part of a set of proposals for The Glebe, in Windermere.
But businesses feared the plan would affect trade by reducing the number of free parking places.
The idea has been scrapped but some work will be done to make the area more accessible to people on foot.
The initial plan was to make the idea pedestrian-only during peak visitor periods.
The two groups met to discuss the plans and reached the compromise.
'Village win'
Steve Ratcliffe, from the LDNPA, said the aim was to establish the area's future and enhance the experience for visitors.
He said the plan was for the green space to "flow quite nicely" into the lake shore but that businesses were concerned about the potential loss of trade.
He said the compromise was that there would be no road closures but some free car parking would be removed to allow for work when money becomes available.
"It's a promenade and that's what we want to try and recreate so people can stroll around and enjoy the views", he said.
Traders' group chairman Richard Rogers said their concern had been that they would lose more than 100 spaces when the only alternative parking costs at least £4.
He described the decision as a "win for the village" and said he believed the loss of spaces could be mitigated.