Job loss warning over Morecambe Bay NHS hospital cuts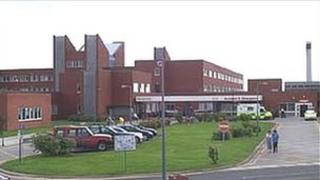 Hospitals staff have been warned jobs could be lost as a trust works to cut spending by £30m.
University Hospitals of Morecambe Bay NHS Foundation Trust has started a 45-day consultation with staff.
The document sets out the trust's plans, which include up to 260 posts being cut, although it said it would not mean that many job losses.
The trust, which runs hospitals in Barrow, Kendal and Lancaster, said it would work to minimise any job losses.
In a letter to staff, trust chairman John Cowdall and chief executive Jackie Daniel said any schemes would have to be assessed to make sure they did not have a negative impact on patients.
'Alarming plan'
They said: "It would be wrong of us to guarantee that there will not be job losses as a result of the changes but we will do everything we can to minimise the impact."
Measures will include redeploying staff and reducing use of agency staff.
The document sets out eight schemes the trust is proposing to cut costs including cutting the length of patients' stays and a review of the nursing, medical and administration workforces.
Barrow and Furness Labour MP John Woodcock said: "This alarming plan shows that the swingeing cuts being forced on our hospitals means that up to one in ten nursing and support posts could go.
"[It] is very hard to see how cuts on this scale could be made without patient care suffering."
He said he would be writing to the health secretary to ask the government to rethink the speed and scale of cuts being imposed on the trust's hospitals.