Cockermouth School cricketers tour Sri Lanka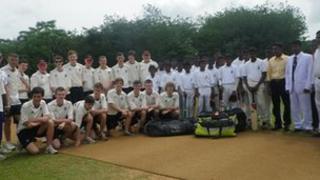 It started off as a pipedream, but students from a Cumbria school have returned from a "once in a lifetime" cricket tour of Sri Lanka.
The group from Cockermouth School arranged the trip with support from teachers and a Sri Lankan professional playing club cricket in the town.
They raised thousands of pounds to help fund the cost and donated equipment to their hosts.
Luke Skilbeck, 16, said everyone on the trip had an "amazing experience".
"We learned a lot from playing in the heat," he said.
"When we arrived at the first match there had been thunderstorms and they were throwing buckets of water off the ground but everyone got along really well and helped each other out with sun cream and water."
Head of PE Chris Hayes said the idea for the tour came from the students.
"The kids came to me about 18 months ago and said the professional, Amila Weththasinghe, at Cockermouth Cricket Club had asked if they would be interested in playing some cricket in Sri Lanka.
"Amila was our link and guide in Sri Lanka.
"They all had a marvellous time. Going to Asia is a very different experience and they were all completely stunned by the sights and sounds and the vibrant colours.
"Two of the schools made a real show of our arrival, we had marching bands and even national anthems at one game."
Back at school, Luke said fellow students had been keen to hear about the trip.
"Everyone has responded really well to it," he said.
"Friends have been asking to see the photographs and we're half-way through giving assemblies to the different year groups."
Luke said the group would remember the tour for the rest of their lives.
"It was probably a once in a lifetime opportunity for just about all of us," he said.
"Some may go back but probably not to play cricket over there."