Piotr Kulinski murder-accused describes fatal stabbing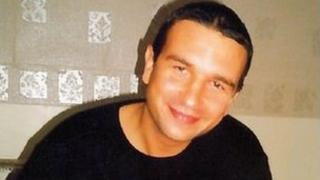 One of three people accused of murdering a Polish man in Carlisle has described the moment he stabbed him.
Piotr Kulinski, 32, died during an attack in Harraby on 14 October.
Piotr Zygner, 30, Pauline Mucha, 26, and Sylwester Kawalec, 23, all of Currock Road, Carlisle, deny murder.
Mr Zygner told Carlisle Crown Court he and Mr Kawalec had gone to Mr Kulinski's house to pay protection money, and Mr Kulinski came out shouting abuse and trying to hit him.
The jury was told that Mr Zygner had been to a party with his co-defendants, and had been drinking and taking drugs.
On the way home, early in the morning, they stopped at Mr Kulinski's Arnside Road home to drop of some money Mr Zygner said he had previously agreed to pay in exchange for protection.
'Picked up knife'
He said that as soon as Mr Kulinski saw him, he began shouting abuse at him and came at him swinging as if he was going to attack him.
He also told the court that he jumped out of the way and tried to crawl away, and it was then that he noticed Mr Kulinski had dropped a knife.
He said that the victim had turned his attention to co-defendant Sylwester Kawalec and was trying to beat him.
So Mr Zygner said he picked up the knife and and started to stab Mr Kulinski in the back with it.
He told the court: "I didn't mean to do anything to him, I just wanted him to leave Sylwester alone."
The pair then heard a woman's voice shouting in Polish and they ran back to the car where Paulina Mucha, the third defendant was waiting, he said.
The trial, which is expected to last another four weeks, continues.