Richard Rhodes PCC expenses 'leak': Two cleared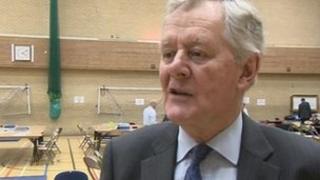 One of three people arrested over the alleged leaking of expenses claims by Cumbria's police and crime commissioner (PCC) will face no criminal action.
The 47-year-old man, who works for Cumbria Police, was arrested in April after PCC Richard Rhodes used a chauffeur-driven car costing £700.
Another male police worker, 59, who was interviewed by detectives but not arrested, will also not face charges.
A woman staff member and a man who does not work for the force remain on bail.
Mr Rhodes, a Conservative, has already apologised for using taxpayers' money and has repaid the cash.
Cumbria Police said the cleared men were no longer suspended and would return to work shortly.
Meanwhile Mr Rhodes has been asked for more information about his expenses by the Home Affairs Committee.
He was asked to appear before the committee to give evidence, but said he was unable to do so for personal reasons.