Chloe Walker coach crash death: Keswick Park memorial plan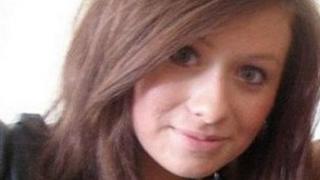 The school friends of a girl who was killed in a coach crash in Cumbria on her 16th birthday are holding a charity night to raise funds for a memorial.
Chloe Walker was one of three people who died when a coach taking pupils home from Keswick School collided with a car on the A66, on 24 May 2010.
Now, on the third anniversary of her death, Chloe's friends are holding a charity night to celebrate her life.
Gina Ireland said her best friend had been "full of life".
Chloe's friends hope to raise enough money to buy a memorial bench in Keswick Park where her friends and family can go and "sit and remember her".
'It was fate'
The charity night is being organised by Kayleigh McFarland, from Flimby, her sister Leona and Miss Ireland.
Miss McFarland said: "We're holding a charity evening at the Workington Legion in Chloe's memory to celebrate her birthday and her life.
"We contacted the legion club and asked what dates were available. The person said there had been a cancellation and the only date that was free was 24 May, the anniversary of Chloe's birthday and death.
"We thought it was fate so we decided to hold it on that date."
Some money has already been raised for the memorial after Leona McFarland and Miss Ireland took part in a skydive in November.
Fellow pupil Kieran Goulding, 15, and the car's driver, Patrick Short, 68, were also killed in the crash and a number of pupils were injured.
The 49-seat coach and Mr Short's Honda Civic were being driven in opposite directions, an inquest at Cleator Moor was told.
Coach driver David Radcliffe said there had been no way he could have avoided the head-on crash.