Carlisle park attack victims pushed into river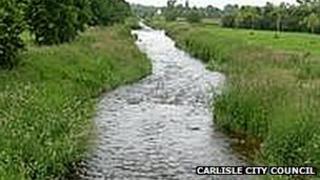 A couple were pushed into a river after being attacked in a Carlisle park, police said.
The man, aged 30, and 38-year-old woman were in the city's Melbourne Park when they were approached by three men.
Cumbria Police said the man, who has not been named, suffered a "violent assault" and was pushed into the River Petteril which runs through the park.
The men then turned on the woman, who was also assaulted and then pushed into the water.
A force spokesman said the man suffered serious facial injuries and damage to an eye socket.
The woman's injuries were described as "not life-threatening".
The spokesman added: "Three men were involved in the incident with two being responsible for the assaults.
"It is believed they were drinking at one of the benches in the park prior to the incident."
Police have appealed for witnesses to the attack, which happened at about 16:30 BST on Tuesday.