Muncaster Castle jester competition reveals dark past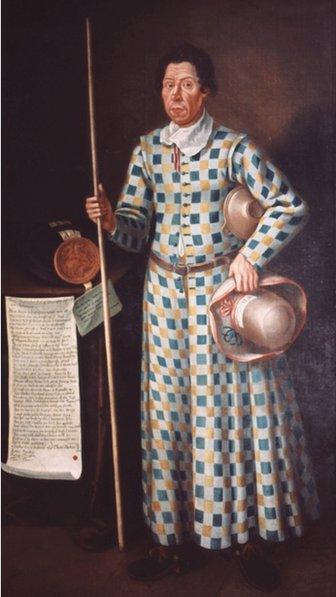 Behind one of Cumbria's most light-hearted traditions lies a very dark tale.
Muncaster Castle, near Ravenglass, recruits its own jester every year in the culmination of a competition that celebrates the art of tomfoolery, with the latest winner crowned this week.
But the history that inspired this annual clowning around leads us back to a distinctly grisly story of murder and revenge.
The Pennington family, which owns Muncaster Castle, has lived there for more than 800 years.
Several centuries ago, the family employed a jester called Tom Skelton, believed to be the original Tom Fool, who is often said to have inspired Shakespeare's joker in King Lear.
But, if folklore is to be believed, Skelton was more than just a harmless clown.
His story is recorded in The Remains of John Briggs, a compilation of tales and essays put together by Briggs, a former editor of the Westmorland Gazette and Lonsdale Magazine, published in 1825.
The story goes that the unmarried daughter of Sir Alan Pennington, who lived in the castle at the time, sneaked out one night to go to a dance in the local village.
Dressed as a shepherdess, Helwise Pennington disguised her identity and rebuffed the advances of a pushy local, known as Wild Will of Whitbeck.
Instead she danced with a carpenter's son, Dick, a servant at Muncaster Castle and who was secretly her lover.
When a local knight, who wanted to marry Pennington, found out from Wild Will, he enlisted Skelton to exact his revenge on the carpenter's son.
The jester, who already believed the young man had stolen money from him, was more than willing to help.
The fool's errand was to behead the carpenter's son with his own axe while he slept.
He said to the other servants: "I have hid Dick's head under a heap of shavings; and he will not find that so easily, when he awakes, as he did my shillings."
How much of the story is rooted in truth and how much is the invention of folklore is impossible to tell.
Skelton was supposedly the last fool employed by the Penningtons at Muncaster Castle, but several hundred years on, the present-day family has resurrected the old tradition.
Peter Frost-Pennington, who now lives in the castle and organises the annual jesters' tournament, said Skelton was definitely an historical figure.
He said: "He was a servant, so there are no written records of him. He's sort of lost in the mists of time.
"But we have a portrait of him with his last will and testament, so he was definitely here, and some think he still is."
Exactly when he was alive is difficult to tell; Mr Frost-Pennington said "around 1600, give or take 50 years".
But he also said there was a letter with a possible reference to him at the time of Henry VIII, while Briggs's story refers to the Battle of Bosworth Field, which took place in 1485.
Whatever the details of his life, Tom Fool's memory endures and his modern day counterparts at Muncaster Castle continue to entertain.
This year's winner of the jesters' competition is Martin Soan, who specialises in prop comedy.
In line with tradition, the modern-day Muncaster fools are paid in beer.
Mr Frost-Pennington said: "The great thing about the fool is he's the only one who can tell the king what a plonker he is.
"It's great to see all this fun and merriment. I just hope Tom's happy we're honouring his memory."
Related Internet Links
The BBC is not responsible for the content of external sites.