New Cumbrian fire service unit to tackle chemical spills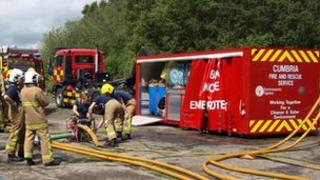 A new partnership is being formed in Cumbria to protect the future of the county's wildlife from chemical spills.
Cumbria Fire and Rescue Service and the Environment Agency have joined forces to create an Environmental Protection Unit which will be based in Penrith.
It will provide firefighters with equipment such as absorbent materials, booms and dams to tackle spillages.
An Environment Agency spokesman said it will enable them to "act immediately" and minimise impact to the environment.