Cumbria cycling boost hope from Tour of Britain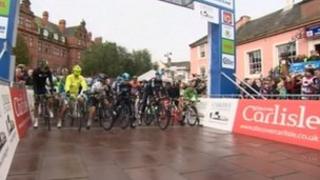 Health officials in Cumbria hope that hosting the Tour of Britain will encourage people to take up cycling.
The single biggest stage of the race - about 140 miles - will start and finish in the county.
Community activities coinciding with the race in September will also aim to capitalise on the interest.
A county council traffic survey showed an increase in the number of cyclists over the past year - 10.6% in the Carlisle area and 7.3% in Kendal.
Dr Rebecca Wagstaff, Cumbria's acting director of public health, said: "For most people, cycling is a safe and effective form of exercise which has broad appeal.
"It's a low-impact type of exercise, so it's easier on your joints than running or other high-impact aerobic activities, but it still helps you get into shape."