Thousands arrive for Appleby Horse Fair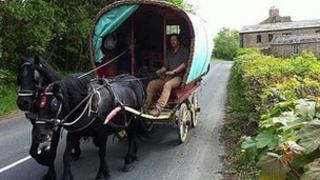 Thousands of Gypsies and travellers have arrived in Cumbria for the annual Appleby Horse Fair.
About 10,000, many with traditional horse drawn bow-top wagons, will take part in the six-day event, with a further 30,000 visitors expected.
The fair dates back to medieval times, when it was used primarily for the buying and selling of horses.
It is now the largest event of its kind in Europe, adding hundreds of thousands of pounds to the local economy.
Robin Hooper, chief executive of Eden District Council and chair of a multi-agency organising committee, said: "It is our job to provide visitors and local residents with the services required to ensure the Fair is safe and enjoyable for all.
'Pivotal event'
"Appleby Fair is a unique event, attracting Gypsies and travellers from across the world and thousands of other visitors who transform the small market town of Appleby, which normally has a population of 2,500.
"The fair is a pivotal event in the Gypsy and travellers' calendar and culture, and it is regarded as a traditional holiday where distant family members come to meet."
Supt Sean Robinson, who is leading the policing operation at the fair, said: "Everyone appears to be in good spirits, the migration onto the camping areas went well, with some disruption to traffic, but we tried to keep this to a minimum.
"We have worked all year with surrounding communities in preparation of the fair and will continue to listen to their concerns in order to make the fair safe and enjoyable for all."
Meanwhile the RSPCA has urged visitors not to bring pet dogs to the fair.
Chief Inspector Rob Melloy said: "Dogs shouldn't be brought to the fair at all. It is quite simply not a place for them. Horses can get 'spooked' by dogs and dogs can get trampled by horses."